In order to be successful in GOPO, you MUST pay attention and do everything Brock tells you to. If you go into this class and think you don't have to try hard or listen to him, you will be sadly mistaken. This will be the hardest class you've taken thus far, but you can be successful if you remember these few tips:
first and foremost, do your homework. It's not that bad anyway, honestly.
pay attention in class.
review your homework notes and class notes each night so you'll retain more knowledge.
STUDY.
use quizlet and watch the funny videos Brock puts on his website.
don't stress too much or you'll be miserable.
Powered by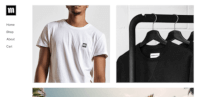 Create your own unique website with customizable templates.