The AP Exam consists of 2 sections of multiple choice and 4 free-response questions. You will be VERY nervous most likely, but if you study throughout the year and pay attention in class you will do great. All you need is a 3 to pass and if you commit to this class, you can easily achieve that.
You have to care about this class and make a conscious effort or you will NOT pass the exam. You can't put forth zero effort and expect to get a 3 on this exam, which should be your ultimate goal.
Powered by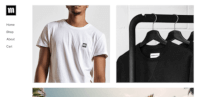 Create your own unique website with customizable templates.